Pros
Available in various online casinos
Support different lottery bets
Offers a relatively high 4D odds
Straightforward to stake bets
Reliable software to play lottery
Cons
Limited to lottery games only
No official website found
No VIP programs
Introduction to EKOR

For several years, lottery games have been among the most rewarding online gambling categories. The process of betting is simple and highly entertaining for lotto game enthusiasts. However, it's not every brand has experienced the same level of trust among the enthusiasts as EKOR. This brand is an online lottery games provider that specializes in different lotto games. From 5D, 4D, to SPR, players can access multiple betting options. Most importantly, EKOR offers arguably the highest odds available on these games in the online betting industry.
It is worth noting that EKOR is not a multipurpose online game provider like several other providers in the betting industry. The company deals with only lottery games. As a result, you'll only find the provider in online casinos that offer lottery games to their teeming patrons. Additionally, EKOR is not available from the betting provider. Instead, you'll need to find reputable online casinos, such as Winbox, to access lottery games from Ekor. An interesting finding about the lottery game provider is that it only deals with gaming platforms with the necessary features to help them enjoy their gaming experience.
With EKOR, players also have access to different bets. Small bet, straight bet, big bet, roll & reverse, and permutate are among them.
In terms of popularity among online game providers, EKOR is not the most popular. This is understandable as it is a specialized game developer. Hence, players who are interested in lottery games are the only ones attracted to it.
Overall rating
Trust fairness: EKOR generates numbers using Random Number Generator (RNG). Hence, it's entirely fair and random.
Games: Only lottery games, such as 4D, SPR, and 5D, are available on the EKOR lottery.
Bonuses: Online casino that offers EKOR lottery games supports different bonuses, including welcome bonus, referral bonus, and daily reload bonus.
Customer support: Online casinos that offer EKOR lottery games have customer support in place, and players can reach them via Live Chat, Telegram, and WhatsApp.
EKOR basic information

Safety and Security
In the betting industry, the confidentiality and privacy of players and their information must always be the priority. Otherwise, they can lose their personal information to unreliable and unscrupulous individuals. For this reason, the top online casino does not use a single security system. Instead, they combine different security protocols to keep online phishers, fraudsters, and unethical hackers away from their betting platform.
Given the importance placed on the player's information safety, EKOR offers its products to a limited group of online casinos. Hardly will you find any betting platforms offering lottery games from EKOR without multiple security measures in place. Among the online casinos offering lotto games from EKOR, verification system encryption systems and strong firewalls are particularly common.
The verification system ensures that no impersonator gets to access the player's account without the proper authorization of the real account owner. Once a fraud tries to engage the account, the player will be informed accordingly. Also, the encryption system ensures that players' data and login details are incomprehensible to illegal third-party, while the strong firewall keeps the gaming platform safe from unethical hackers that could want to compromise the betting site.

Bonuses and promotions
EKOR doesn't perform great when it comes to bonuses and promos. However, a common theme among online casinos offering EKOR lotto products is lucrative promos. A good example is WinBox Online Casino. On the betting platform, registered members can register and log in to their accounts to enjoy lotto betting from EKOR. In the process, you get access to generous offers, including a 0.5% Daily Bonus, a 7.0% Daily Bonus, a chance to win a new iPhone 12 Giveaway, etc. If you are really interested in bonuses and promotions, EKOR may not be the best provider of lotto games to consider.

Available Games
As briefly stated earlier, EKOR is a specialized lottery gaming app. In other words, players do not get to enjoy fishing games, slot games, live casino games, arcade games, or table games on the platform. Contrarily, once you sign up with the online casino and download the app, you can access EKOR lottery bets. Below are the most popular games on the EKOR app:
4D lottery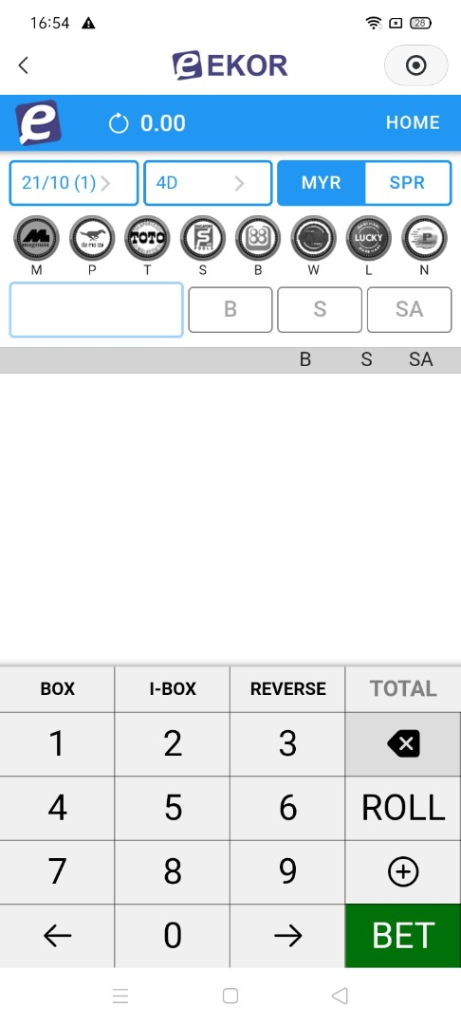 Otherwise known as the 4 Digits lottery, this interesting lottery game is available to players in Malaysia. Once you access the EKOR app, you must choose your preferred number between 0000 and 9999.
In every betting session, the system will draw 23 winning numbers. If one of the selected numbers matches your pick, then you win. On EKOR, you don't need to do a lot, as the numbers are generated randomly. All you need is to make your pick and choose whether you are going Big, Small, SA, 3A, or 3C.
Notes that the rewards differ depending on the type of bet you choose for each game. For instance, by choosing a BIG bet, you can have more options to win from compared to when you choose an SA bet. In Ekor Games, you will be able to bet on Magnum 4D, Toto 4D, Lucky Hari Hari, and so on, where there must be one of your love.
5D lottery
Similar to 4D, players need to choose five preferred numbers and place their bet. You can choose any digit between 0 and 9 when making your pick. However, the system only rewards players when they manage to be among the top six in ranking. It is worth noting that the higher your ranking, the higher your reward would be. For this reason, it's important to be strategic with your prediction and choice of bet.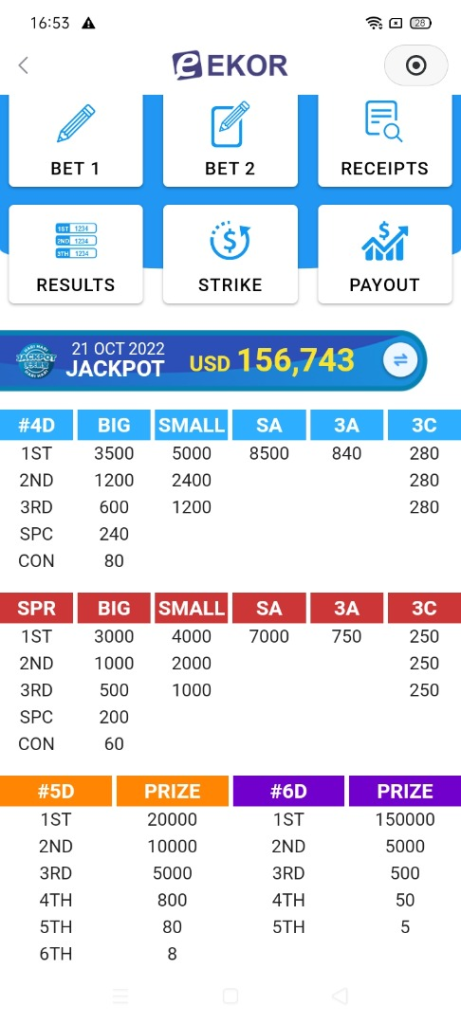 SPR lottery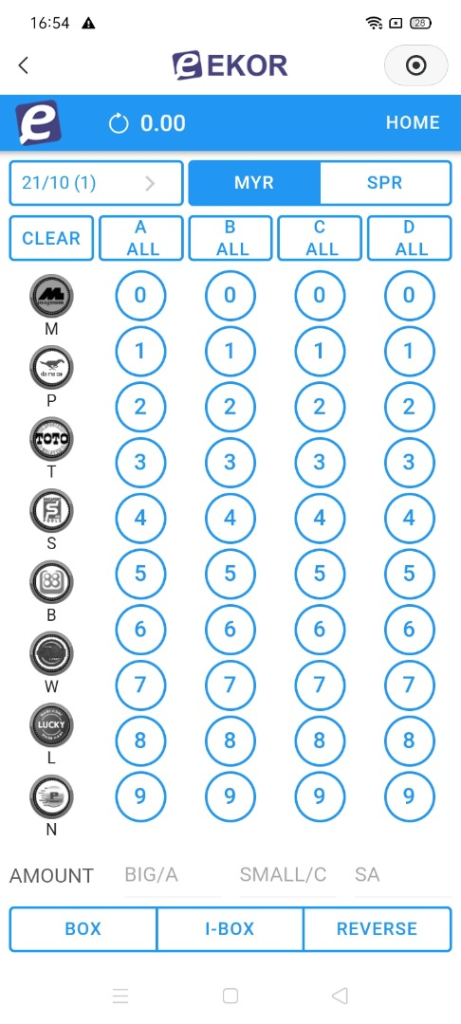 In this lotto, players also get to choose their preferred betting method, including BIG, SMALL, SA, 3A, and 3C. Please check the available prizes that come with the first position, second position, third position, special, and consolation before placing your bet. This is because the prize that comes with each position differs significantly from the type of betting method that you have chosen. In fact, some positions don't give you any reward, depending on your type of bet. Hence, ensure that you are making an informed decision before placing your bet on EKOR.
6D lottery
Some experienced lotto bettors believe that the more the number you get to pick for your bet, the higher your chances of winning. This is not necessarily the case, as many bettors have succeeded with 4D. So, whether you choose to play 4D, 5D, SPR, or 6D, everything boils down to your decision-making and, most importantly, luck. As with a 5D game, you win if you can manage to come up as one of the top six. Also, you should remember that the prize gets sweeter when you get to achieve a higher ranking.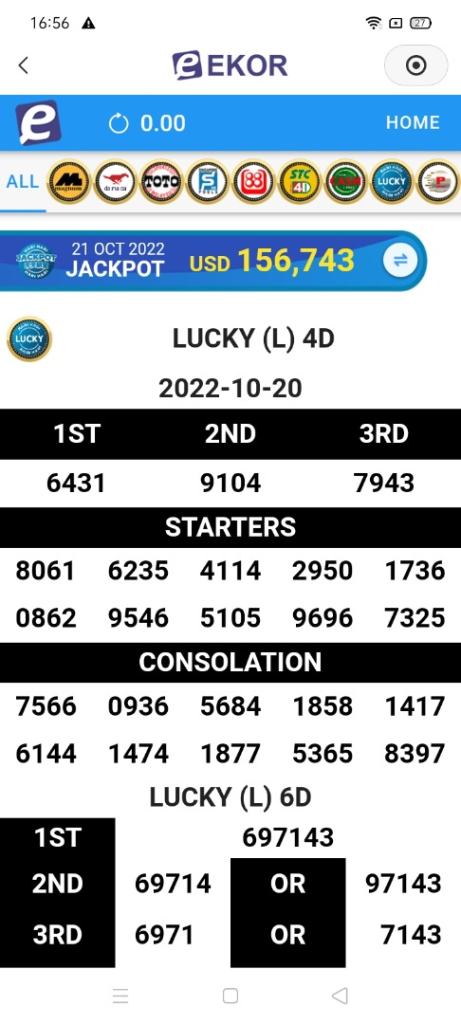 Lucky Hari Hari Lottery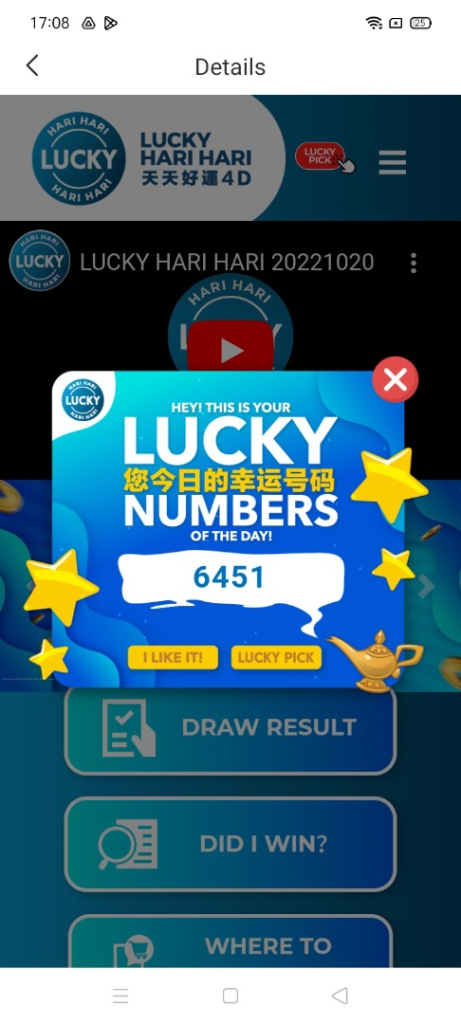 Lucky Hari Hari is the daily twice-drawn lottery that has the highest reward among all lotteries in Malaysia. The result is drawn live streaming at 7 pm every day and can be redeemed every day. Same as other lotteries, there are 4 types of bets BIG, SMALL, SA, and REVERSE. Lucky Hari Hari is privatized by Winbox Online Casino and also licensed by the Malaysian Government. With multiple daily drawings and flexible betting amounts, this has demonstrated a high level of interest in the game.
Payment methods
Whether you intend to play 4D lottery games on a lotto website or app, you must consider transaction methods. Sometimes, it's possible that the available payment methods at your preferred casino might not be acceptable in your region. Or you may incur more charges by choosing the available payment methods. Also, some payment means are more reliable with track records than others. For these reasons, we always recommend playing EKOR on a reputable online casino that supports trustworthy payment methods.
Among the trusted payment means found with the online casino offering EKOR lottery games is bank transfer.As a player from Malaysia or Asia, you can make a direct transfer from Public Bank, CIMB Bank, RHB Bank, AFFIN Bank, Hong Leong, Alliance Bank, May Bank, etc. Keep in mind that your preferred online casino to access EKOR lotto games will determine what would be available to you.
Customer support
Getting quick help makes the betting experience exciting. Otherwise, players can get frustrated with difficulties in registration or while trying to make a withdrawal. Customer supports are crucial in assisting newbies in finding their way around an online casino and enjoying their betting experience. They can also provide useful links to certain information that is hidden to find or even complete a deposit or withdrawal process. Sometimes, a gaming process may hang or develop a fault, but getting in touch with the customer can help resolve the problem as soon as possible.
Thus, it's always important to choose a betting platform with a customer support unit. Fortunately, an online casino offering EKOR lotto games has representatives in place to respond to players' needs. Some of the common means of communication with the customer unit include live chat, email, phone calls, WhatsApp, and Telegram. Most online casinos also have their customer support unit working 24/7. This means you can contact the representatives at any hour by dropping an email or a message on the live chat. Endeavor to state your concerns and provide every other necessary information required.
How to play the EKOR lottery?
Contrary to the usual gaming app download, you need to sign up with an online casino offering EKOR lottery games to enjoy their service. To start playing EKOR lottery bets, follow the guide below to get started:
Step 1:
Visit an official online casino offering EKOR games, such as Winbox online casino.
Step 2:
Complete your account registration by providing your preferred username, password, and personal information.
Step 3:
Submit your emails and phone number and accept the terms and conditions.
Step 4:
Confirm the registration and verify the account from your email.
Step 5:
Return to the official website homepage and proceed to download the online casino app.
Step 6:
Log in with your username and password.
Step 7:
Access EKOR lottery games.
Can the EKOR lottery be trusted?
Concerning whether the online lottery bets provider is legit and authentic, this has been verified. It's very legit, especially for players in Malaysia and many other regions in Asia. However, trusting EKOR lottery games depends largely on the online casino offering the games. For this reason, players are encouraged to undertake due diligence before downloading any online casino app and accessing EKOR.
Once you find a set of online casinos offering EKOR lottery games, the first thing is to check whether the betting platform is licensed and regulated. Among the most popular online gambling authorities are Curacao Gaming, PAGCOR, UK Gaming Commission, Malta Gaming Commission, etc. A regulated online casino means the betting platform has been assessed and found to be reliable by the betting platform.
Additionally, read the privacy policy of the betting platform or check the online casino's review. A good online casino will utilize multiple security measures, including a verification system, encryption protocol, and a strong firewall to protect players' information and transaction processes. Furthermore, try to learn about customer support performance, available bonuses, and the registration process. If everything checks out nicely, then you can bet on having a great lottery betting experience on EKOR.
Final Thoughts
From the review, it's apparent that EKOR is not as popular as many other lottery games available online. Also, the bet options are not as numerous either. However, it is very authentic and reliable to deliver a premium lottery game experience. You can enjoy exciting 4D, 5D, 6D, and SPR lottery games with various betting methods on the software. These games' bets offer different prize levels. Hence, the onus is on the player to strategize properly before staking.
Players should note that EKOR only provides lottery games. You cannot access slot games, live casino games, esports betting, or fishing games on the EKOR lottery app. Furthermore, you need to sign up with an online casino offering the lottery game to access EKOR. Thus, it is highly encouraged to check the online casino properly before signing up. Assess the registration process, the available payment methods, the performance of customer support, and whether they support the VIP program or not. If you can find a reliable and licensed online casino, you will have a memorable lotto betting experience with EKOR. Good luck!
FAQ about EKOR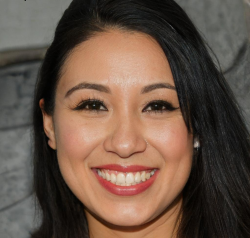 Latest posts by Linda Wong
(see all)